Let us Invite, Include, and Involve
People from all Generations and Cultures to Experience Jesus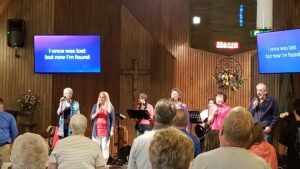 Adult Sunday School 8:45 – 9:30 am
Fellowship time(coffee & Doughnuts) 9:30 – 10:00 am
Sunday Services 10am,
AWANA for kids – during service
All are Welcome
Our Service is in person at the church
-Church Garage sale June 15-16
–
One Great Hour of Sharing during the month of June
This year our offering theme is "It' time to share".
"Let us not become weary in doing good, for at the proper time we will reap a harvest if we do not give up." Galatians 6:9
Together, we provide immediate relief and long-term recovery support after disasters; equip churches and leaders in disaster preparedness measures; offer assistance to displaced people; and support global development projects that empower communities around the world to thrive. Our partners have persisted in this life-saving work despite the challenges of the pandemic and in the face of other disasters and humanitarian crises that continue to escalate in frequency and severity.
There are no special envelopes, so please use an envelope that is in the pew and write OGHS on it. If you are mailing in your offerings, please also designate OGHS. On-line giving is also available through the FBC website. Thank you for your support.
– For those seeking and relationship with Jesus and/or a church family to Fellowship together with we invite you to come. We are excited to meet and welcome everyone.
We are also Live Streaming our Sunday morning service on Facebook.
CONNECT WITH US
Follow our outreach on
Facebook
and stay connected with the latest updates, newsletters and ministry events.

Connect with us:
Prayer/Praise requests;
charmaynejohnston@gmail.com
Church Office Email;
belviderefbcoffice@gmail.com
CONTACT US
Belvidere, IL 61008
Mailing Address:
PO Box 276
Belvidere, IL 61008
Phone: 815-547-5800